Breathe BioMedical is a proud supporter of The White Ribbon Project
The White Ribbon Project promotes lung cancer awareness and focuses on removing the stigma surrounding this deadly disease. This project is raising awareness that anyone with lungs can get lung cancer.
You can learn more about The White Ribbon Project and how to get involved at https://www.thewhiteribbonproject.org/
The White Ribbon Project Event
Last November Breathe BioMedical hosted a White Ribbon Event for Lung Cancer Awareness Month. At this event community members received ribbons for their contributions to the lung cancer space. As part of the event, attendees heard from three lung cancer survivors and advocates: Dave Bjork, Jill Hammer-Wilson and Heather Hogan. White ribbon recipients were able to speak and share their experiences with lung cancer and their goals for the future. 
Minister of Economic Development Arlene Dunn, Lung Cancer Survivor Heather Hogan, NB Premier Blaine Higgs & MLA Greg Turner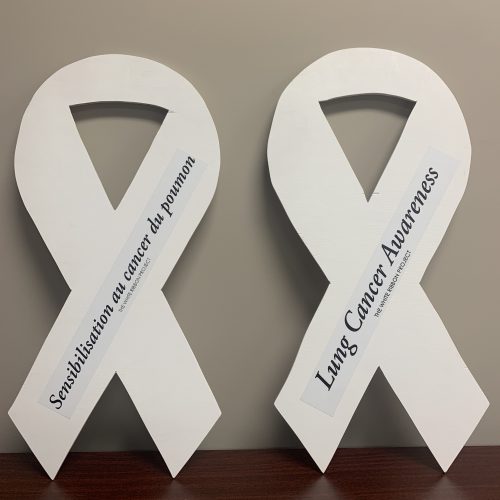 White Ribbons Built by the BBM Team
Heather Hogan & NB Premier Blaine Higgs
Do you know someone in Atlantic Canada who contributes to lung cancer awareness? Fill out the form below to nominate them for a white ribbon! Nominees will receive ribbons at the 2023 White Ribbon Event.